Image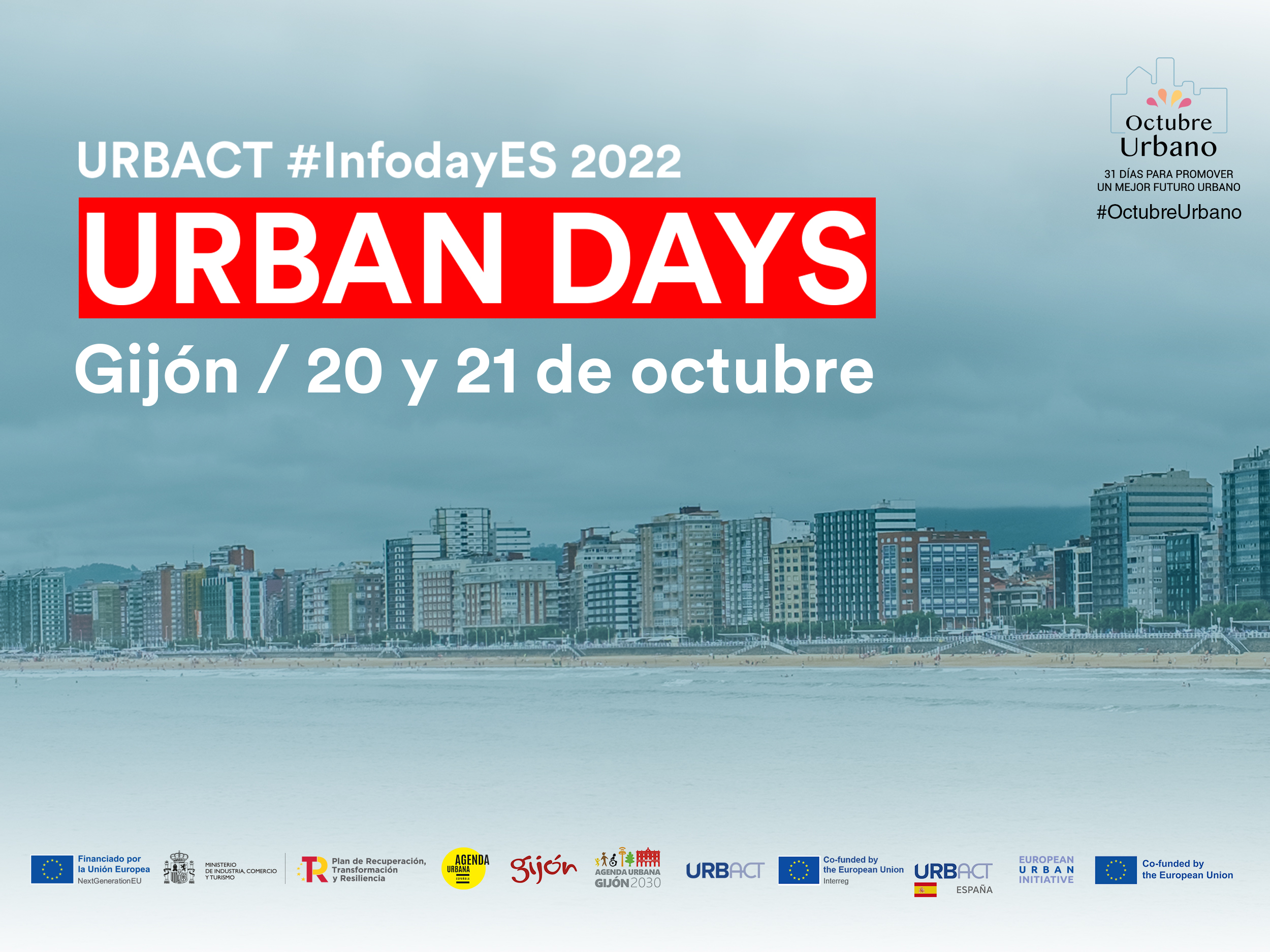 EUI at Urban Days 2022 #InfoDayES
On 20-21 October, the National URBACT Point in Spain and Gijon City Council are organizing the event, URBAN DAYS, an ideal framework for learning about advances, examples, challenges and opportunities related to Sustainable Urban Development (SUD) and its financing. This event will present programs, calls, including EUI 1st Innovative Actions Call and practices linked to the Next Generation funds and the new Funding Period 2021-2027.
On October 20 and 21, 2022, Gijón hosts the URBAN DAYS event -title of the edition of the #InfodayES 2022-, an ideal framework to present advances in sustainable urban development and an exceptional opportunity for dialogue beyond the cities participating in the different URBACT networks. 
EUI permanent secretariat will be present during this event to present its first Innovative Actions Call linked to the Next Generation funds and the new Multiannual Financial Framework (MFF) 2021-2027, and will take stock of what the SUD funding has given in the period 2014-2020.
The event will be an interactive and practical approach, establishing a multilevel and multilateral dialogue, from which to promote the exchange of experiences, dialogue, networking and the transfer of knowledge between programs, cities and institutions of different scales and networks.
Objectives
Present and share the URBACT program and method, as well as the Action Planning Networks (APN) and their results.
Present opportunities and results linked to the financing of Sustainable Urban Development (Next Generation, MFF 2021-2027, European Urban Initiative).
Promote the exchange and transfer between different DUS programs: URBACT, UIA, EDUSI, Local Urban Agendas, etc.
Train municipalities in the development of comprehensive urban planning.
Registration
Registration spots are limited! Do not leave your registration for the last moment! Register here and discover the challenges and opportunities linked to Sustainable Urban Development (SUD) for your city.
Deadline to register: October 14
Practical information
When? 20 and 21 October.
Where? Rooms 1 and 2 of the Labor University of Gijón. C. Luis Moya Blanco, nº 39, 33203 Gijón, Asturias (See on the map).
Check here the program.